A few questions about your website…
Is your web content out-of-date and inaccurate?
Is your website built in WordPress, and constantly needs updating?
Are you concerned about the costs of updating your web pages?
Do you want to generate more business/leads?
Does your site NOT do what it promised to do?
Having gone to the trouble and expense of designing and building a website for your business, you will need to keep it up to date and look after it. In maintaining any website, you may experience problems or concerns from time to time. You may even have lost contact with the person who created your website?
If you'd like to know more about our website maintenance services, please call us on 07740 471665 Call Now
0r drop us a line…
---
Our Prices – Our
website maintenance

is offered on three levels…

* Extra hours available subject to negotiation, usually £75.00 per hour.
Level 1. Hosting Only
Premium Linux shared hosting platform, the best 'environment' for mission critical hosting letting us deploy your website or database and email, with the highest levels of security, access and connectivity. Our sites are hosted on our high performance blades within a secure, monitored environment at the ByteHouse data centre. Multiple high speed, resilient BGP tier 1 connections ensure that your website is available at all times. All hosting platforms get issue occasionally. We will maintain and trouble-shoot your web hosting with a minimum of fuss and try to ensure you're online all the time. We also include an SSL certificate.
Level 2. Strategic Website Maintenance
We believe website maintenance is worth doing if it meets your particular requirements. Our strategy is always to meet your goals and objectives, whether they include lead generation, online sales, bookings, information, brand awareness or image credibility.
1. WordPress Updates
WordPress websites require constant monitoring and regular updates to ensure optimum performance and security. We have a wealth of experience with WordPress and will carry out the following tasks:
Regular updates to core WordPress
Regular updates to all WordPress themes & plug-ins
Monitoring of WordPress installation for security issues
Monthly backups of WordPress
Uptime monitoring
2. Regular updates to the page content of your existing website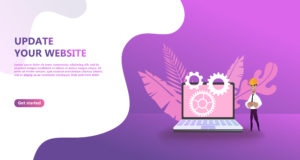 At your request, we will add, edit or delete text or images in the main body of your website within the 24hrs and usually much sooner. Even the most minimal change to content can be beneficial, and much better than no change at all, so at your discretion, we may make subtle adjustments in the interests of SEO.
Benefits: your pages will look up-to-date, carry the latest news about your company, product or service and Google will recognise that your content has been updated and reward you for it.
3. Performance goals & monitoring – monthly reports sent to you by email
Visits to your site can be tracked and we will show you in a monthly report, how visitors found your website, where they came from, and what they did when they got there (amongst other things). Data can often be baffling, but rest assured, we'll explain it all to you in a language you understand. Every website has its unique, specific business purpose. Your requirements of your website may be to communicate information to your customers, or to increase enquiries. It may be to sell merchandise, or take bookings. It may just be to maintain a credible, professional profile for your business. Or a combination of these. In each scenario your goals will vary. We can agree a plan to achieve the best outcome based on these goals.
Benefits: By reviewing this information on a monthly basis we can adjust the content to target your customers and steer your website in a more profitable direction.
4. Regular website reviews
It is healthy to review your website regularly and set new goals. We can review your reports together and brainstorm ways to improve your website. We'll even set regular reminders where we will call you and prompt you for updates to your website.
Benefits: You'll have peace of mind knowing your website is up-to-date and performing at least as well as you expect – delivering a reasonable return on your original investment.
5. Support
Occasionally we all experience problems with our website, domain or email. Research takes time and frustration is stressful – and both can be costly. When you eventually find someone who can offer a solution, you can't always be sure what to expect from them or how much you'll be paying (especially in an emergency). We're at the end of the line to offer help and support wherever possible.
Benefits: You'll save money by minimising costly down time.
Research takes time – frustration is stressful and can be costly. When you do find some who can offer a solution, you can't always be sure what to expect from them or how much you'll be paying – especially in an emergency.
Level 3. Website Maintenance + Google Ads PPC
Everything included in Level 2, but with the added benefits of paid ad campaign management. When you need to take advantage of Google's sponsored ads and get ahead of the search competition. See further details of our PPC management service.
Call 01737 816107, 07740 471665 or email for a no obligation chat and we can discuss your website maintenance and how we may be able to help with it.